Advanced Treatments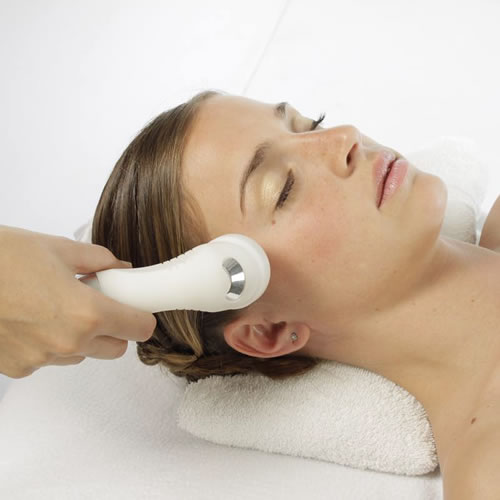 Diamond Microdermabrasion (60 min) €70
Face,Neck and Decolete (90min) €100
Microdermabrasion is a popular non-invasive, non-surgical procedure that some clients refer to as an "instant" facelift. It is a quick, safe, convenient and proven effective method for all skin colors and types to give a brighter,smoother appearance to any area of the body. Using diamond tipped wands this gentle treatment deeply exfoliates the skin improving the appearance of lines and wrinkles, stimulating collagen production, acne scarring, sun damage and stretch marks on the body. Diamondtome restores natural luminosity and is ideal as pick me up for dry, tired and stressed skin.This is a quick procedure and requires no downtime after treatment therefore treatments can be performed in your lunch hour. Normal activities may be resumed immediately. Your skin will have a radiant glow and be free of irritation and loose particles. Exfoliates and removes dead skin cells.
Benefits of Microdermabrasion
Smoothes and improves skin texture and colour
Gives skin a luminous glow
Improves appearance of wrinkles
Stimulates collagen production
Promotes the growth of healthy new cells
Ideal as a quick skin pick-me-up
---
Radio Frequency (RF) ( 60 min) €85
Face,Neck and Decolete (90min) €150
The method utilizes radiofrequency waves which is basically heat energy meant for tissue remodeling and production of elastin and new collagen.Unlike invasive procedures which primarily affect the most superficial layers of the skin, the resulting heat of the Radiofrequency treatment works mainly on the deepest layer of the skin, the dermis, without affecting the upper layers that are above it such as the epidermis. As heat is a stimulation that promotes contraction of the underlying tissues, especially at the dermis level, soft tissues found within that area of the body compress, realign, and even produce new collagen, a process that normally takes many months to complete. With healthy new collagen present from the deepest level of the skin, exposing such soft tissues to further Radiofrequency waves help sculpt and tighten those tissues into a more youthful and elastic surface.
Benefits of RF
Lift,
Firm and tighten skin by aiding the skin's own ability to produce collagen and elastin.
Skin concerns including fine lines and wrinkles,
Sagging skin
Acne scarring are targeted
Post treatment your skin will continue to improve thanks to increased collagen and elastin production.
---
Micro-Needling (90 min) €150
Micro needling is a process carried out with a roller that is covered with numerous tiny needle. These needles penetrate the upper layers of skin to up to 2,5mm (depending on the needle length used). This process has two major benefits. It EFFECTIVELY STIMULATES COLLAGEN formation at the same time as providing a clear channel for topical products to be absorbed more effectively through the top layer (epidermis) of skin.
Benefits of Micro-Needling
Hair Loss Treatment / Hair Restoration
Anti Ageing
Anti Wrinkle
Cellulite Treatment / Cellulite Reduction or Removal
Scar Removal – including acne scar removal
Stretch Mark Removal
Stimulate Collagen
Acne
---
Ultrasound Facial (60 min) €85
Face,Neck and Decolete (90min) €150
Ultrasound utilizes sonic vibrations, it works one million times per second (1 MHz). The ultrasonic wave could stimulate skin tissue and improve permeability of the membrane to promote collagen tissue, reduced wrinkle and invisible appeared fine line, also lift the skin result for younger and healthy look.Ultrassound generate frictional heat which accelerate blood circulation, muscle relaxation, and decompose the cellulite to break down exceed fat.
Benefits of Ultrasound
Puffy eyes
Fine lines
Wrinkles
Sagging skin
Dark eyes circles
Enlarged pores
Acne
Peels (60min) €70
Skin peels are an ideal way to freshen and improve the texture and smoothness of dull, tired skin or to help deal with problems such as acne and blemishes and sun damage that appears as brown spots and patches. Tailored to your specific requirements our range offers a selection of light to medium and advance peels that require no downtime and deliver instant results. Also designed to help more persistent skin problems such as acne and pigmentation. by removing dull, dead cells from the skin surface, open pores, blemishes and fine lines are all immediately reduced. We will advise you on the correct peel for your skin type and problem and you will also be patch tested for skin sensitivity.
Benefits of Peels
Minimise fine lines and wrinkles
Wipe away blemishes and reduce open pores
Smooth uneven skin texture
Rejuvenate and refresh your complexion
Tailored to your skin type
Acne
Pigmentation
Microcurrent Facial treatment (60 min) €80
Face,Neck and Decolete (90min) €130
Microcurrent is to simulates bio-current of human body and divide it into various waveforms to go deep into epidermal layer, dermis layer and subcutaneous muscular tissue respectively to supply electricity to the cells and skin, to stimulate the energy which contained in the cells and to activate the cells, thus increase the output of the intracellular ATP, strengthen the penetrating force of the cells, promote the synthesis of intracellular ferment and protein, help the aged cells obtain normal metabolism and circulation and accelerate the nutrition absorption and waste excretion of cells.
Microcurrent can replenish electric energy to skin so as to restimulate the vitality of cell. Replenish charges to cells with BIO biologic microcurrent will regain electric field balance to revitalize the cells and make the skin be transparent.
Effects: Accelerate the blood circulation of the capillary vessel and enhance permeability of the cells to make the nutrient delivery to skin and muscle tissue more effectively.
The microcurrent generated by this apparatus can penetrate into the deep layer of the skin to replenish water so as to restore you a moist, smooth and delicate skin.
Micro-current can push the electric power to stimulate subcutaneous tissue to repair skin elastic fiber and collagenous tissue so as to extend and fade wrinkle
Oxygen Facial (60 min) €85
Face,Neck and Decolete (90min) €150
Oxygen Facial is based on new technology that delivers pulsated oxygen and a specially formulated skin serum deep into the epidermis, promoting healthy skin restructuring, elasticity and firmness.
Micro water molecules penetrate into the skin, softens the pores, speedy comfort balance skin PH, shrink pore, availability intercede skin energy.
The facial involves a machine that sprays atomized moisturizers onto the skin using a stream of pressurized oxygen. The treatment is supposed to hydrate skin immediately, making the face appear smoother and plumper.
The Oxygen facial  Benefits
Moisturises your skin
Promotes Collagen Production
Speed Up Cell Turnover
Helps Detox The skin
No Side Effects
It's the ultimate hydration therapy that makes your skin look better instantly and stay that way for a few days.
Nano Fractional RF Microneedle Treatment (90 min) €300
The Secret Micro-Needle Fractional RF System is the ideal technology for skin lifting, tightening and rejuvenation by utilising minimally invasive micro-needles to deliver controlled RF energy directly into various depths of the skin.
The RF energy is delivered through the focused tip of the microneedles, leading to far-less trauma to the surrounding epidermis.  Non-insulated micro-needles are more effective and takes care of both epidermal and dermal problems without the need for additional superficial fractional RF treatments (SFRs).
Plasma Pen
Plasma Pen, a new-era skin tightening technology provides a non-surgical solution for lifting, tightening and reducing skin. Plasma Pen works by placing a probe near to the skin which produces a micro-millimeter sized pulse of 'plasmatic lightening' which then superficially evaporates and causes the immediate surrounding area of skin to contract. This contraction tightens this area giving your skin a rejuvenated, natural and more youthful appearance.
This process can reduce excess skin and in particular can tighten the eyelid and under eye area. It's also hugely popular in treating crow's feet, wrinkles around the mouth, smoker's lines, scar tissue and superficial lines commonly seen on the neck, décolletage and body areas.
During treatment a series of tiny brown spots are strategically placed on the area of concern pulling the cells closer together resulting in a tightening and lifting effect. Over a period of days after the treatment, the fibroblasts in the skin produce new collagen and elastin.
Benefits
Non-invasive, non-surgical procedure

Tightens, firms and improves elasticity of the skin

Surgery-like results without going under the knife

Quick and easy procedure
How much does the treatment cost?
Crows Feet €200

Under Eye €300

Upper Eye €300

All three (full eye rejuvenation) €700

Nasolabiais  €250

Upper Lip €200

Below Lip €200

Full Mouth €350

Face rejuvenation €500

Neck or decollete rejuvenation (crepiness) €500

Millia, Mole, Raised Warts, Skin Tag Removal from €50
---